When I was asked to speak on Steven Moe's Seeds podcast, my friend and colleague Haimona Waititi from Tūmanako Consulting suggested that I share some of the missteps I have made as part of different organisations trying to better support Māori aspirations.  So, I talked on the podcast and shared  three personal stories of situations where, despite the best intentions, things could have been done differently and better.
The podcast was then picked up by the excellent and informative online Sunday magazine e-tangata, who interviewed me and expanded the talk into this full article.
In summary, the three stories I talk about are:
"Dial a Māori" – why it doesn't work well for Pākehā organisations to engage someone Māori if we haven't first done the groundwork.
"All I need is cultural competency" – why cultural "safety" is better than cultural "competency", and considerations for Pākehā learning Te Reo Māori.
"Please translate our name into Te Reo" – how not to go about a name change.
If you want to listen to the original podcast, my talk is from about 5:45 to 18.15 minutes on the link below.  (It is then followed by the amazing Sue Barker on  charity law reform and Justin Stevenson on non-profit governance – both are also well worth a listen.)
At the conclusion of the podcast, I provided a slide of tips for organisations to consider, adapted from the Ki te hoe Framework for funders supporting Māori aspirations which Haimona and I did for Philanthropy NZ / Tōpūtanga Tuku Aroha o Aotearoa.  Here is the slide: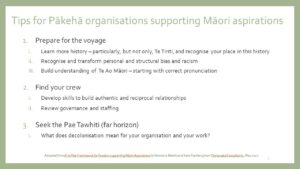 As we build the Aotearoa of tomorrow and start to seriously consider what it means to honour Te Tiriti and create synergy between Te Ao Pākehā and Te Ao Māori, these journeys are becoming more common – and they are very important.  I hope the above is helpful as we walk this path, and, as always, I welcome feedback.