Looking for an inspiring read over the holidays?  "Te Kai a te Rangatira – Leadership from the Māori world" is an extraordinary book, and is highly recommended.  It shares the wisdom of over 100 rangatira from across Aotearoa, sometimes in English and sometimes in Te Reo Māori.  Here's a few quotes: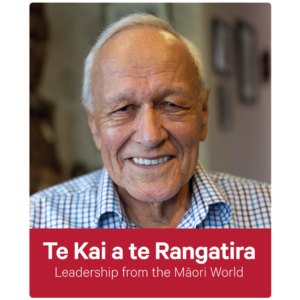 You carry your thousand ancestors with you wherever you walk (Annette Sykes, Te Arawa, Ngāti Mākino, Ngāti Pikiao)
"…one needs to speak out when things are wrong, and take the consequences. It doesn't matter if you get whacked across the head – the fact that you've actually done it is important.  When you exercise courage, your mana increases"  (Kim Workman, Ngāti Kahungungu, Rangitane)
"Having a solo leader doesn't work. Things have got to be distributed and networked so that all people know what to do.  They're all working to the same cause" (Mason Durie, Rangitane, Ngāti Kauwhata, Ngāti Raukawa)
Not only is this book both beautiful and thought provoking, the story of its creation is inspiring too.  It's a labour of love from a group of twenty-five rangatahi who, over a period of two years, voluntarily travelled the county interviewing and filming rangatira.  Their mission was to collect the wisdom from Māori who "have a track record of contributing to the lives of others" and the first fruit of these labours is this beautifully produced book.
I thoroughly recommend 'Te Kai a te Rangatira – Leadership from the Māori World" and it's in book stores now.  Or better still, if you buy it directly from the official Kai a te Rangatira website, all profits will go directly to rangatahi development.  Enjoy!