On International Women's  Day I spoke on a panel with Dame Susan Devoy and Melissa Clark-Reynolds on the topic "being the best we can be" at a function hosted by Kapiti Chamber of Commerce and Kapiti Rotary .  Here is my speech:

Ki ngā maunga, ngā awa, me ngā tāngata whenua hoki o te rohe nei, tēnā koutou katoa. E te rangatira, e oku hoa ma, ngā mihi nui ki a kōutou. Ki a koutou katoa kua tae mai nei, tēnā koutou katoa*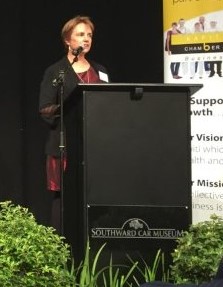 I would like to start with a small piece of wisdom:
"Life is the universe's gift to you, what you make of your life is your gift to the universe".
I'd like to say that this wisdom came from some post-grad philosophy course – but actually it came from Facebook.    But I think it is relevant though to today's topic – being the best we can be.  And it is relevant to the theme of International Women's day, which is to be bold for change.   Because here we are, entrusted with this indescribably precious gift called life.  If we don't strive to be the best we can be – what a waste of this gift.
And yet.  And yet when I think about my own life, I know that I spent the first half of it very deliberately trying to be the second best I can be.
So I thought that today I would share some of my personal journey and then some thoughts on being the best we can be and being bold for change.
I remember the day I decided to be second-best very clearly.  I had just turned 13 and was in my last year at Havelock North Primary school.  We were all told to go to the hall to sit a test to see who would be dux (top scholar) of the school.  Now, I don't know about you but on the inside, there is not just one Kate – there are several.  And they spend a lot of time arguing.
So there I am sitting waiting for the papers to be handed out and the Kate in my head who wants to shine says "Maybe I could be dux".
And the Kate who likes to sabotage myself responds "Really.  You?  What a joke."
And that was situation normal in my head – those two always have and always will argue.  But then came a third voice, a new voice.  "Boys don't like girls who are too clever".
And I-want-to-shine Kate and Sabotaging-Kate had no answer to this new please –just –let-me-be-socially-acceptable Kate.  So, I deliberately answered some of the questions wrong.  And I was not Dux of my primary school, and even if I had answered the questions to the best of my ability this probably would not have happened – but that is not the story.
The real story is that night I lay in bed and the three Kates in my head had a great big battle and eventually they came up with a compromise. I was to aim to always be good, but never best.   B+ and never A+.  An organiser but not a leader.  Dependable but never centre-stage.
And how this played out was that when I went on to Karamu High in Hastings then university I had to work quite hard in Maths and Science but cruised happily through English and Geography.  And when eventually, finally, hallelujah, boys did show some interest, I would try to be what they wanted me to be, say what they wanted me to say.  "Oh I'd love to go to the Speedway".  And I would be admiring, rarely challenge anything they said and certainly never shine.
Happily, there are many women for whom this story is crazy talk.  But for those of us who now or in the past have deliberately tried to be less than we are – well this is not only sad, it is absurd. What is behind this?
Recently I heard a talk by a poet called Sonya Renee Taylor.  Sonya is black American, plus-size, shaves her head, battles depression and is totally magnificent. One of Sonya's many insights is the concept of a "default body."  So if we say "oh they are such a successful person" it is probable that the image we conjure up in our head is the "default body" that exemplifies success in our western culture.  That body is probably male, white, heterosexual, not too old, not too young, not too thin, not too fat, able-bodied…  And the further we are from this default body that, the further we are from power and resources. And the more messages we receive that we should know our place and not challenge the status quo.
As women we fall at the first hurdle on the default body list.  By not ticking the gender box we somehow don't deserve to earn as much as men.  And some of those who possess that default body, notably a certain US president, think our pussies are for grabbing.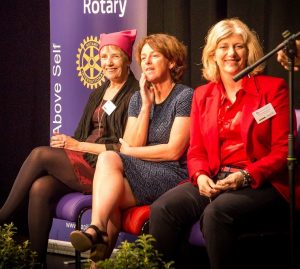 And on that note, I thought I would like to introduce you to my pink pussy hat which I wear in solidarity with our sisters in the US.  It's got little ears like a pussy cat and its colour and shape have some resemblance to women's reproductive systems.    We wear our pussies with pride – and they are not for grabbing.
All that said, I don't want to overstate women's oppression.   Because if the only box I can't tick in the default body list is gender, well I am still pretty privileged.   So how am I using that privilege to support my young, Māori, lesbian, disabled sisters who don't tick any of those default body boxes?
Back to my personal story for a bit.  In my late twenties I began to dare to be successful.  I worked in IT and did pretty well, and in 1995 my husband Dave Moskovitz and I started a web development company in the flat above our garage, one of the first in Aotearoa.  We did well and in 2000 I received the ASB Business Woman of the Year award and a NZ Order of Merit for services to business and the community.
Then in 2002 we sold the company and I changed career and got involved in philanthropy – first by creating a small family philanthropy with some of the money from selling our business, then taking on the role of CE at the Todd Foundation.  I am involved in philanthropy personally and professionally and I now provide consultancy services to help people and organisations to more effectively support our communities.
So now, at last, after years of slowly becoming braver and more self-accepting, I damn well want to be the best I can be.  And, while I don't pretend to be Mother Theresa, I want every day to know that I have contributed to positive change.
The Aotearoa I want to live in is a respectful and caring place where everyone thrives and everyone contributes.   So that is not a world where those with the default bodies thrive and the rest of us follow submissively in their wake.   It is a land where we all have the opportunities and resources to follow our dreams, and we all support others to follow theirs.  It is a land of social cohesion where Te Ao Māori is strong, vibrant and acknowledged by all, where we all feel confident and respected in our identity no matter what body we have, where our relationships are inclusive and reciprocal.
That's the world I am working for, and each of us will have our ideas on what most need to change in our world.
So I'd like to finish with some practical ideas for how we can work in our everyday lives to be take up the International Women's Day challenge and be "bold for change."
We step into our power and unashamedly be the best we can be.  We each have much more power than we realise and we can be better than we think we can be.  Conversely, those whom we look up to as having power often have less than we assume.
We speak out against bigotry – sexism, racism, and all abuses of power wherever we see it.   This requires us to first look at ourselves, because we all have prejudice.
We give our time and money to the things we believe in.  If we are lucky enough to live comfortably, why wouldn't we share some of what we have?  And we don't have to be wealthy to give; it is the act of generosity and giving in proportion to what we have that matters.  Most of us are able to give money or time, many of us can give both.
I'd like to give my last comment to my parents, particularly my wonderful late Dad, who would say to us "if in doubt, do it."   Brave advice to give your teenage daughters perhaps…  But, assuming we have a good ethical framework, we often hesitate to act because of fear – fear of looking stupid, fear of failing, fear perhaps of succeeding too well and transcending our too small view of ourselves.
So let's dare to shine, to be the best we can be, to be bold for change and to make the most of this precious gift of life.  And, if in doubt, do it.
No reira tēnā koutou katoa
* the words in Te Reo Māori at the beginning of the speech are acknowledgements and greetings to the land and tangata whenua of Kapiti, to the MC and fellow panelists and to the audience.